 Custom Label Water Bottles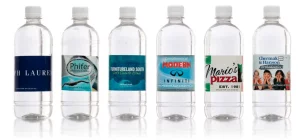 With our custom labeling service, you can turn your favorite 12- or 20-ounce Le Bleu beverage into a handheld billboard!
Bottled water is an excellent advertising medium because customers typically hold the bottle for at least 30 minutes, look at the label several times, and often take the bottle along with them to their next destination.
Le Bleu's Custom Label program is excellent for health clubs, spas, golf clubs, medical facilities, school fundraisers, grand openings, banks, churches, political campaigns, trade shows, weddings, family reunions, car dealerships, and any other organization or special event.
Achieve Maximum Advertising Exposure
with Le Bleu Enterprises' Custom Label Program
By customizing our Le Bleu ultra pure water bottles with your company or event logo and story, you have a unique opportunity to advertise and raise the visibility of your brand. We are the largest custom label water provider in North Carolina. We make it easy to order, and we will even design the label for you if you'd like.
Get more information about making Custom Label Le Bleu water work for you:
To request more information about Le Bleu Enterprises' Custom Label program, please contact us. Or, if you're ready to get started designing your own custom label today, call us at 888-532-5381.