 We make the

purest

, best-tasting water possible.
Le Bleu Enterprises is a Greensboro, NC-based, independently owned licensee of Le Bleu Corporation. Since 2006, we've been producing and distributing Le Bleu ultra pure bottled water and Keurig Green Mountain Coffee throughout 74 counties in North Carolina and South Carolina.
At our state-of-the-art water purification facility in Greensboro, NC, we take water from municipal sources "five steps beyond Mother Nature" in Le Bleu's distillation, filtration, and ozonation process. We are proud to maintain the highest possible quality, taste, and purity standards: Our award-winning ultra-pure water contains no contaminants of any kind, measured to parts per trillion.
We're the leader in North and South Carolina bottled water delivery.
Le Bleu Enterprises is the leading and largest home and office bottled water delivery service in North Carolina and South Carolina. We are proud to make the purest water and finest gourmet coffees and teas available to our residential and office customers. Our long-term relationships with companies like John Deere, Sealy, TIMCO Aviation Services, Proctor & Gamble, and others show our commitment to providing outstanding service.
We deliver water throughout North and South Carolina:
North Carolina Areas:
Asheboro

Asheville
Burlington
Charlotte
Concord
Gastonia
Greensboro
High Point
Hickory
Mooresville
Statesville
Winston-Salem
South Carolina Areas:
Charleston
Columbia
Greenville
Hilton Head
Mt. Pleasant
North Augusta
North Charleston
Orangeburg
Rock Hill
Spartanburg
Summerville
Here Are Just a Few of the Companies We Serve with Pride: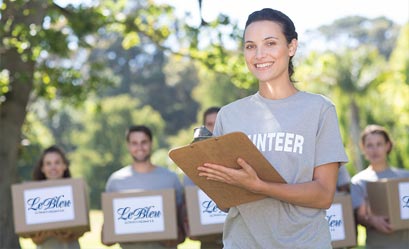 We're Local And Proud of It.
Le Bleu Enterprises honors our Carolina roots. We wouldn't be the largest home and office delivery bottled water company in the state without the support of our local employees, customers, and friends. We give back and support our community through donations, sponsorships, and the time of our employees.
Want to Learn More About Le Bleu Ultra Pure Water Delivery?
Call us at 888-532-5381 or fill out the form below and we will be in touch.