 Le Bleu Ultra-Pure Bottled Water
Delivery of Le Bleu Ultra-Pure Water in a Variety of Sizes to Fit Your Needs
We offer our ultra pure Le Bleu water in a variety of multi-gallon jugs and water bottle sizes. Whatever size suits you, you can rest assured that all bottled water we deliver is the same ultra pure H2O – 11% hydrogen, 89% oxygen. Nothing more. Nothing less. No chemicals, no sodium, no chlorine, no pharmaceuticals, no bacteria, no viruses, no microorganisms.
Three- and Five-Gallon Jugs
Whether you rent a water cooler from Le Bleu or have your own, we can deliver 3- and 5- gallon jugs to you. Like all Le Bleu Ultra Pure Water products, our multi-gallon water is bottled in a non-toxic, BPA free container which doesn't leach contaminants into our water. Our 3- and 5-gallon jugs also feature sturdy handles for easy replacement.
Bottled Water by the Case
Our three- and five-gallon water jugs are ideal for many homes, offices, and events— but sometimes you can't beat the convenience of individual 12- or 20-ounce bottled water. Le Bleu Enterprises offers scheduled delivery of our standard and premium Le Bleu Ultra Pure water in 12- and 20-ounce bottles, by the case. And our custom label water is an excellent choice for special events and marketing your brand.
After spending so much effort and money purifying our water in our five-step process, we don't compromise our water quality with inferior plastic containers.
Our water bottles do not leach any chemicals into our water, even under the harshest conditions. Le Bleu water bottles are BPA free.
All of our bottles are far sturdier than our competitors' and do not "crumple under pressure".
Le Bleu Premium water bottles are an elegant, refined choice for discriminating customers, in a signature cobalt blue plastic.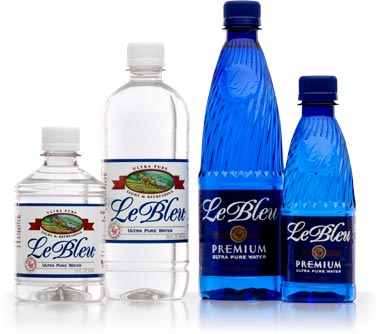 Le Bleu Ultra Pure Water
12-ounce bottles – 24-count case
20-ounce bottles – 24-count case
1 liter bottles – 12-count case
1.5 liter bottles – 12-count case
Le Bleu Premium Ultra Pure Water
10-ounce bottles – 32-count case
20-ounce bottles – 24-count case
1 liter bottles – 12-count case
1.5 liter bottles – 12-count case